It's dinnertime, and you're craving something delicious. Maybe it's some hot and cheesy pizza or a juicy burger; whatever it is, you know you can't wait to eat it!
But with your busy schedule, the thought of searching for a restaurant and physically picking up the food is overwhelming.
While meal kit delivery services allow you to cook restaurant-quality meals in your kitchen, food delivery apps bring a wide range of restaurant meals directly to your doorstep.
With the help of these apps, ordering food online has never been easier. The best part? You don't even have to leave your home!
But with so many food delivery services, which one should you use? Now, leave that to us.
This guide reviews some of the best food delivery apps in Toronto so that you can satisfy your cravings at any time of the day.
Factors Common to the Best Toronto Food Delivery Apps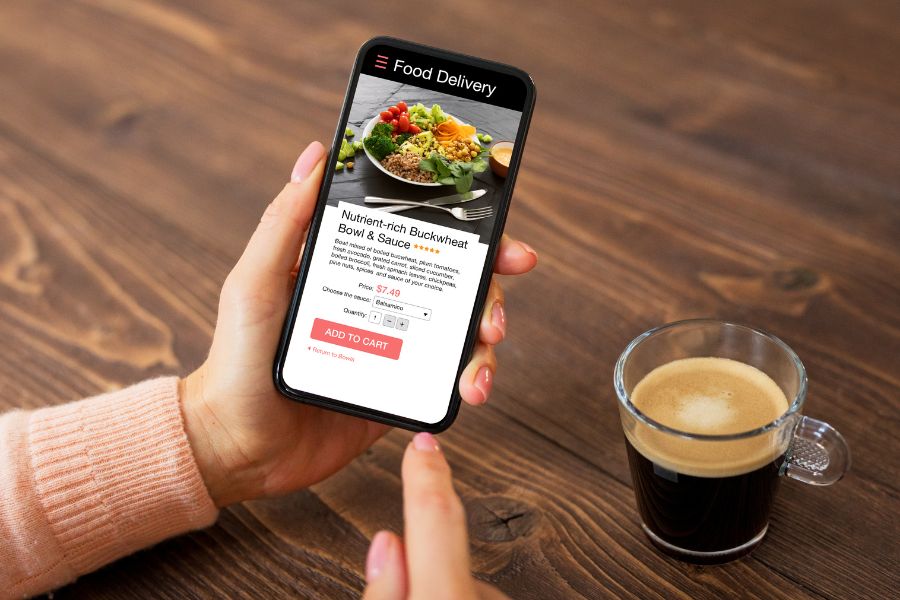 The online food delivery segment is waxing stronger, and choosing a service is gradually becoming tricky.
Look out for these key factors when making your decision.
The first and most important factor is reliability. You don't want to open an app or order our food only to find out later that it was never processed or the delivery person got lost trying to find you.
The best apps have reliable payment processing and tracking systems so you can be sure your food will arrive at your door.
Next, consider the range of restaurants available on each app. The best online food delivery apps make finding a restaurant near you easy and offer various cuisines. Make sure the app you choose has plenty of options so you can be spoilt for choice.
Finally, consider price and loyalty programs. Most of the top apps have competitive pricing structures and offer discounts for regular users with their loyalty programs.
Compare prices across different apps and see which gives the best value for your money. By weighing these factors against each other, you should be able to decide the best food delivery services for you.
Best Food Delivery App Toronto
After thorough research, we've curated the most reliable food delivery apps in Toronto.
Uber Eats
If you're looking for an easy way to get your food delivered from your favorite restaurant in Toronto, then Uber Eats is the way to go.
It boasts one of the fastest food deliveries in Canada, with an average delivery time of 10-15 minutes.
Furthermore, it has the most comprehensive selections from the best restaurants in Toronto. You can even check out reviews and photos of dishes before ordering!
Uber Eaters has some promo codes and discounts, so look out for them if you want to save money on your order.
Once you create an Uber account, you can access other excellent services like ride-sharing or bike-sharing. It's a great all-in-one package that's hard to beat!
Pros
Wide selection of restaurants and cuisines
Convenient and user-friendly app interface
Real-time order tracking
Reliable and timely delivery
Cashless transactions
Cons
Delivery fee and surge pricing during peak hours
Limited customization options for orders
DoorDash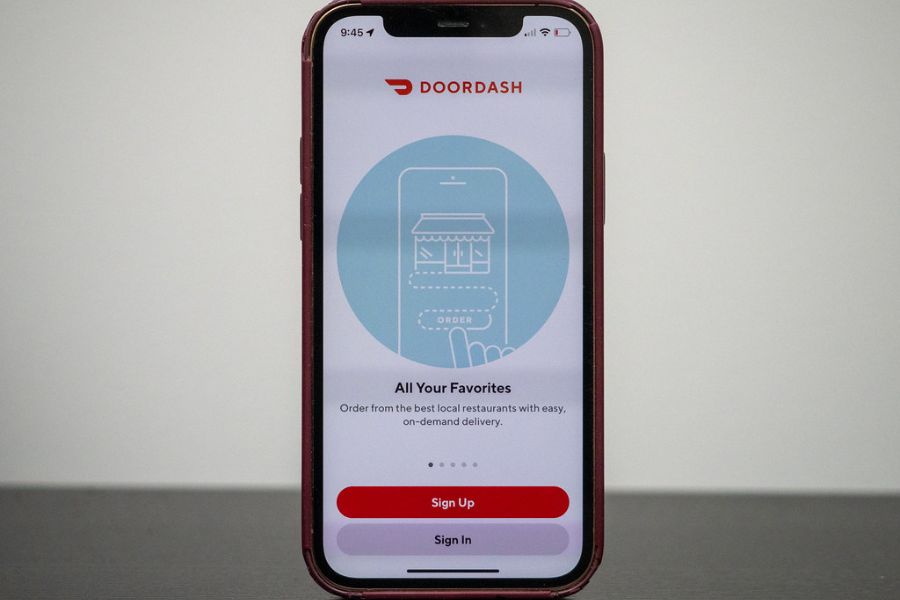 This online food delivery app will help you satisfy your cravings. One of DoorDash's highlights is that it offers on-demand delivery from hundreds of restaurants and stores in the Greater Toronto Area. It also features an incredibly convenient service.
When you use this app, you can choose from several delivery options. For instance, opt for Express Delivery if you're in a rush or schedule your delivery to suit your schedule.
They also have a subscription service called DashPass which grants free food delivery when members order food over $12.
So whether you need your food ASAP or want it within a specific timeframe, there's sure to be an option that works for you.
Pros
Extensive selection of restaurants and cuisines
User-friendly app interface
Real-time order tracking
DashPass subscription for free delivery and reduced fees
Quick and reliable delivery
Cons
Delivery fees and service charges
Surge pricing during busy periods
SkipTheDishes
SkipTheDishes is a popular food delivery app in Toronto. The app allows you to choose from hundreds of local restaurants and search for specific dishes to get exactly what you're craving.
SkipTheDishes also delivers across Canada. So if you're feeling some munchies while away from home, SkipTheDishes can help you get what you need wherever you are.
Late-night food? Or a complete feast with family and friends? SkipTheDishes is the best food delivery app in Toronto to help satisfy all your cravings!
Pros
Massive selection of restaurants and cuisines
Easily navigable app interface
Scheduled deliveries
Group ordering feature
Loyalty program for discounts and rewards
Cons
Delivery fees and service charges
Limited availability in some areas
Foodora
When you're in the mood for a high-quality, premium food delivery service in Toronto, Foodora is the way to go.
With its wide selection of restaurants and carefully curated menus, Foodora has some of the most delicious bites in town.
Boasting over 1,000 restaurants, you can satisfy any craving anytime. Everything from Greek Gyros to Indian Curries and not-to-be-missed assortments is available on the app.
All orders are from high-quality restaurants serving fresh top-notch dishes. That's because Foodora only partners with popular local eateries well-loved by Torontonians.
Pros
Partnerships with local and independent restaurants
Wide range of cuisines and menu options
High-quality and gourmet food choices
Convenient app interface
Delivery tracking and notifications
Cons
Limited availability in certain areas
Delivery fees and service charges
Fantuan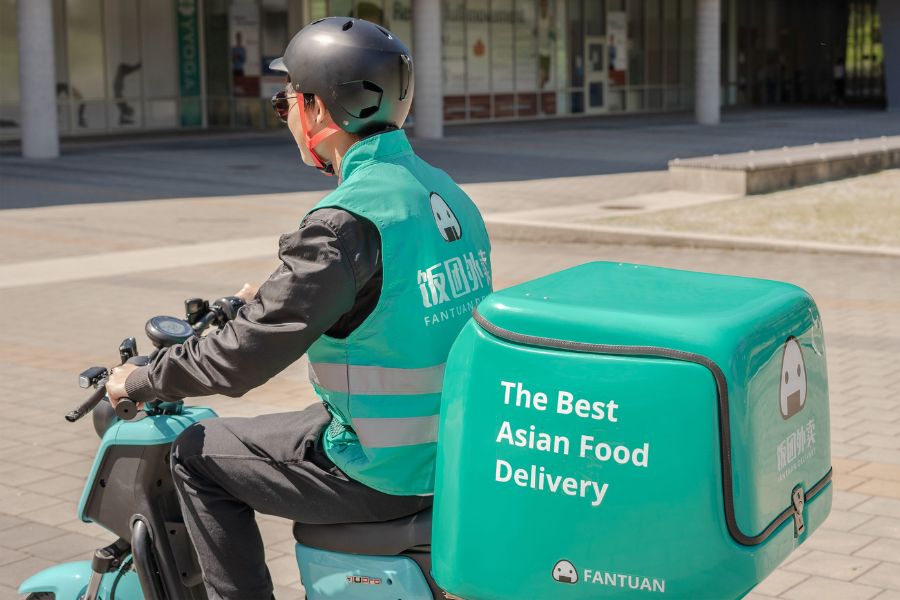 Are you looking for popular food delivery apps in Toronto specializing in Chinese food? Well, someone needs to introduce you to Fantuan. Well, it seems we are that someone!
With a wide selection of authentic Chinese dishes from regions worldwide, it's easy to find something mouth-watering on Fantuan.
The app offers a myriad of dishes from all over China. From Sichuan spicy and Hunan spicy to Cantonese and Beijing dishes, there's something for everyone.
Plus, they have vegetarian and non-vegetarian options to enjoy your favorite Chinese, regardless of your diet.
Satisfy your Chinese food craving with the help of Fantuan.
Pros
Focus on Asian cuisine and restaurants
Extensive selection of authentic Asian dishes
User-friendly app interface
Real-time order tracking
Timely and reliable delivery
Cons
Limited variety of non-Asian cuisines
Delivery fees and service charges
Ritual
This typical food delivery app supports local restaurants and is worth trying.
Ritual works with over 3,500 restaurants in Toronto, providing some of the best features to make ordering a cinch.
First, it's got various delivery and pickup options. Hence, you can get your meal whenever you want. They constantly add new restaurants, so there's always something new to try!
With contactless delivery, you don't have to worry about any contact with the driver or restaurant staff while staying safe. Need some food? That's what you'll get; no complaint.
Pros
Convenient pickup option
Wide selection of restaurants and cuisines
User-friendly app interface
Loyalty program for discounts and rewards
Seamless ordering process
Cons
Limited availability in certain areas
Potential for longer wait times during peak hours
FoodXpress
With a sleek interface and a vast array of options, FoodXpress has become a go-to app for food lovers across Toronto. From local favorites to international cuisines, they've got you covered.
Their seamless ordering and lightning-fast delivery mean your cravings are just a few taps away. If simplicity were an app, it would be FoodXpress!
Pros
Wide selection of restaurants and cuisines
User-friendly app interface
Real-time order tracking
Timely and reliable delivery
Convenient payment options
Cons
Not available in certain areas
Delivery fees and service charges
DeliverEats
When it comes to convenience and reliability, DeliverEats takes the crown. With their extensive restaurant network, you have many choices for every need.
Whether you're in the mood for a hearty burger, delectable sushi, or comforting pasta, DeliverEats deals it all promptly and with a smile.
Pros
Convenience
Variety of options
Easy ordering
Delivery tracking
Accessibility
Cons
Additional fees
Limited quality control
Lejoy Food Delivery
Craving a cheesy pizza? Sushi that melts in your mouth? Or perhaps some spicy Indian curry? How about you tell Lejoy?
Lejoy food delivery has an unwavering commitment to quality. Each dish is carefully crafted, using the finest ingredients, and prepared by skilled chefs, guaranteeing an unforgettable culinary experience.
Ordering is a breeze with this user-friendly app. It provides a seamless and convenient process from selection to delivery. Their lightning-fast delivery ensures your food arrives piping hot and ready to be devoured!
But Lejoy doesn't stop at just delivering food. They sprinkle an extra dose of joy with special promotions, discounts, and surprises, adding sparkle to your dining experience!
Pros
Extensive menu
Easy ordering
Fast delivery
Quality assurance
Special offers and surprises
Cons
Limited service area
Availability of restaurants is shaky
Bottom Line
So, if you're in the Toronto area and looking for convenient, reliable food delivery, these apps are worth considering.
Whether you're looking for a quick snack or a full meal, the right food delivery app can make life in Toronto much easier. Many apps offer unique features and services – from cashback offers to vegan-friendly ones.
Thus, you will find something that suits your needs.
So, go ahead and take advantage of the convenience and ease of these food delivery apps in Toronto – you won't regret it!